Development projects for border crossing points
Finnish Transport Infrastructure Agency (FTIA) is coordinating six cross-border cooperation (CBC) projects that are funded by the EU Commission and aimed at developing border crossing infrastructure. The projects will be carried out within 36 months of the signing of the funding agreements, during the period 2019–2021. According to the regulations for the CBC programmes, the projects must be completed by the end of 2022.
The Kolartic CBC programme is aimed at increasing the appeal of the region. The programme is funded by the European Union, Finland and Russia.

The Southeast Finland – Russia CBC 2014–2020 is aimed at supporting the external borders of the European Union using funding from the European Union, the Russian Federation and the Republic of Finland.

View border crossing point development projects on a map (PDF).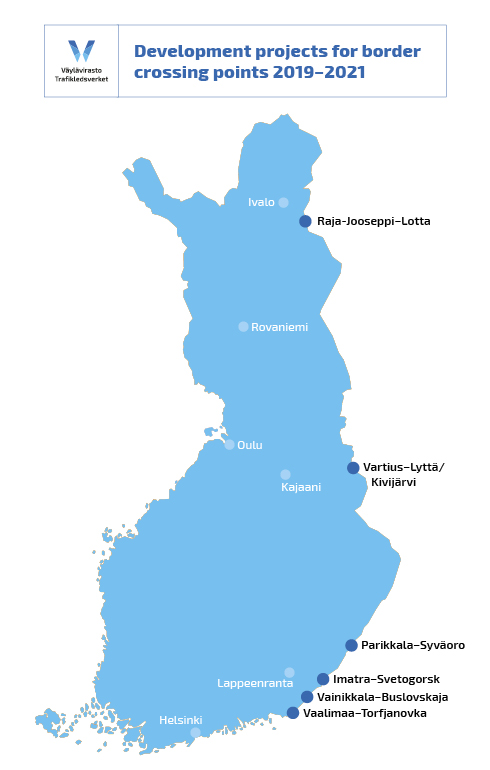 Part of the European Union's external border cooperation programme
The European Union has a total of 17 external border cooperation programmes, seven of which are being implemented at the EU-Russia border. Three of the European Neighbourhood Instrument for Cross-Border Co-operation (ENI CBC) programmes are being implemented at the border between Finland and Russia:

The main strategic objectives of the ENI CBC cooperation are
Supporting economic and social development in border regions
Addressing common challenges (e.g. environmental issues, health, combating crime);
Safeguarding and promoting the mobility of people, goods and capital and improving both people-to-people connections and models for joint action.