Road Signs
The Finnish Transport Infrastructure Agency is responsible for the road signs used on the highways. The Finnish road signs are specified in the Road Traffic Decree. All the road signs are presented on the attached pages.
Road signs starting from 1 June 2020
With the new Road Traffic Act, the yellow do not cross line will change to white and several new road signs will appear along roads from 1 June 2020. New road signs include merging lanes and minimum speed. In addition, many signs have undergone technical changes and they have been made clearer.
The transition period for the new road signs is 10 years. This means that both old and new road signs will be seen for years. Yellow do not cross lines will be changed into white with a slightly shorter transition period. The do not cross lines must be white by 31 May 2023 at the latest.
General information about the new Road Traffic Act.
Looking for these?
Explanations of road signs
The explanations of the road signs can be found in the Road Traffic Act. You can view the new Road Traffic Act on the Finlex site (in Finnish).
Warning signs
A warning sign is used to express a place or road section with traffic hazards.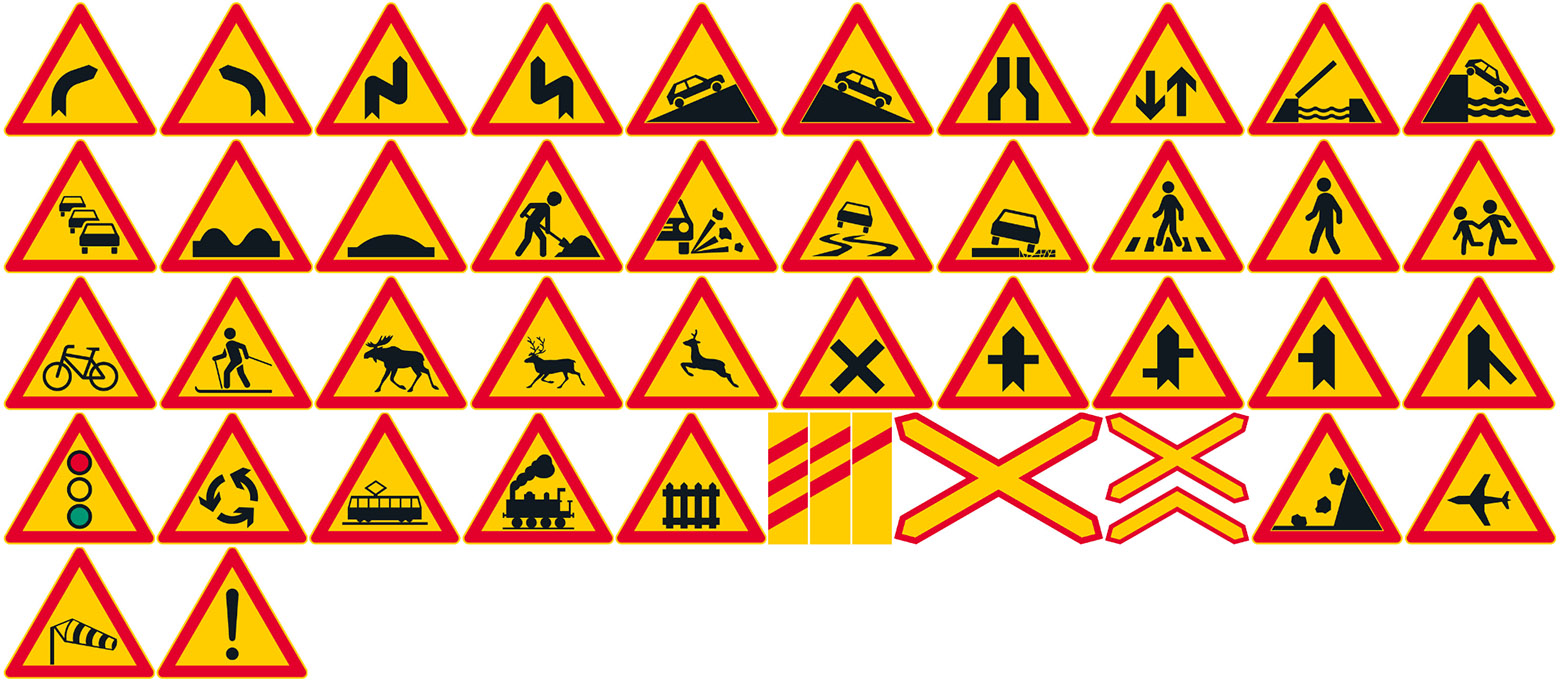 Priority and give-way signs
Priority and give-way signs indicate who has to give way.
See all priority and give-way signs

Prohibitory and restrictive signs
A prohibitory and restrictive sign prohibits or restricts the road user's actions.
See all prohibition and restriction signs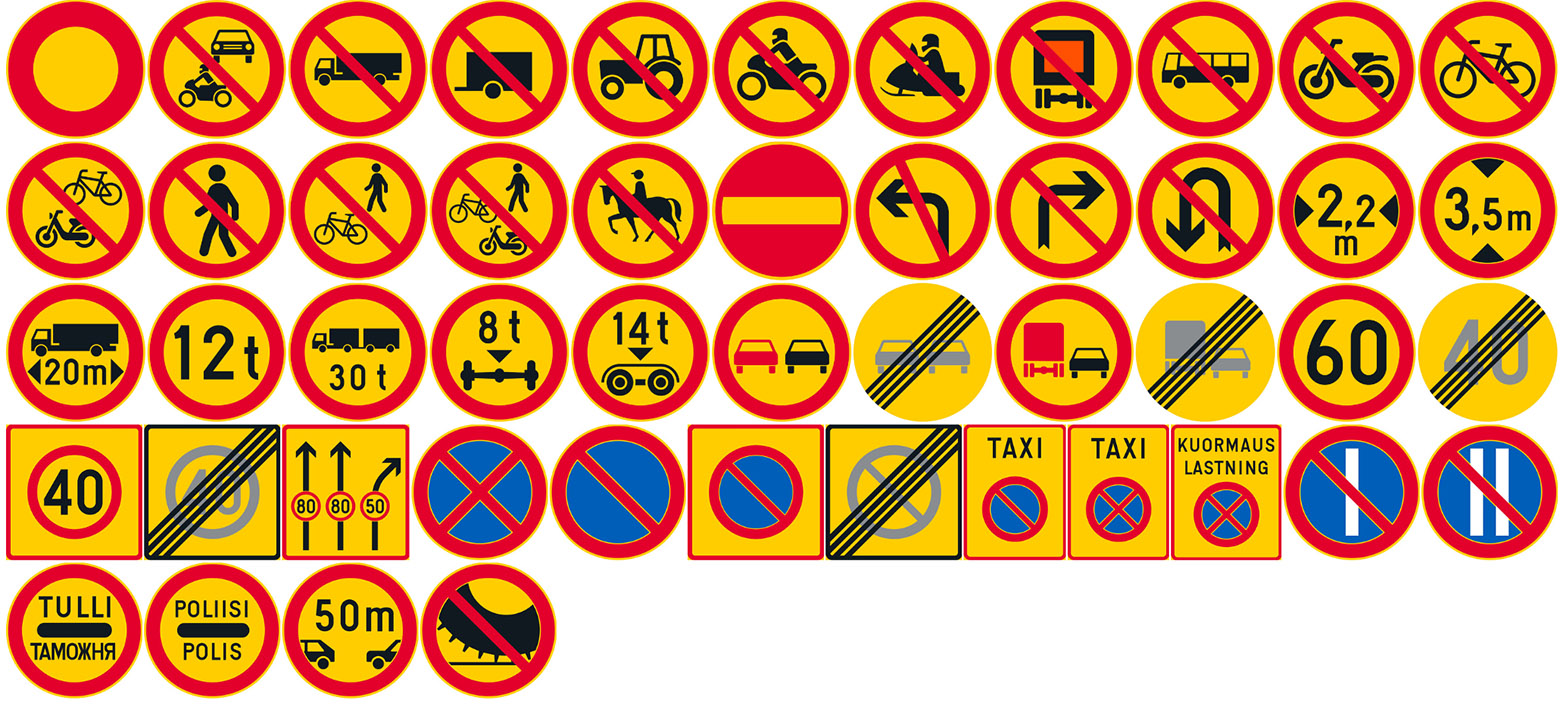 Mandatory signs
A mandatory sign orders the road user to act as indicated by the sign.

Regulatory signs
A regulatory sign gives a rule for road users or points out a place where the related traffic rule will be applied.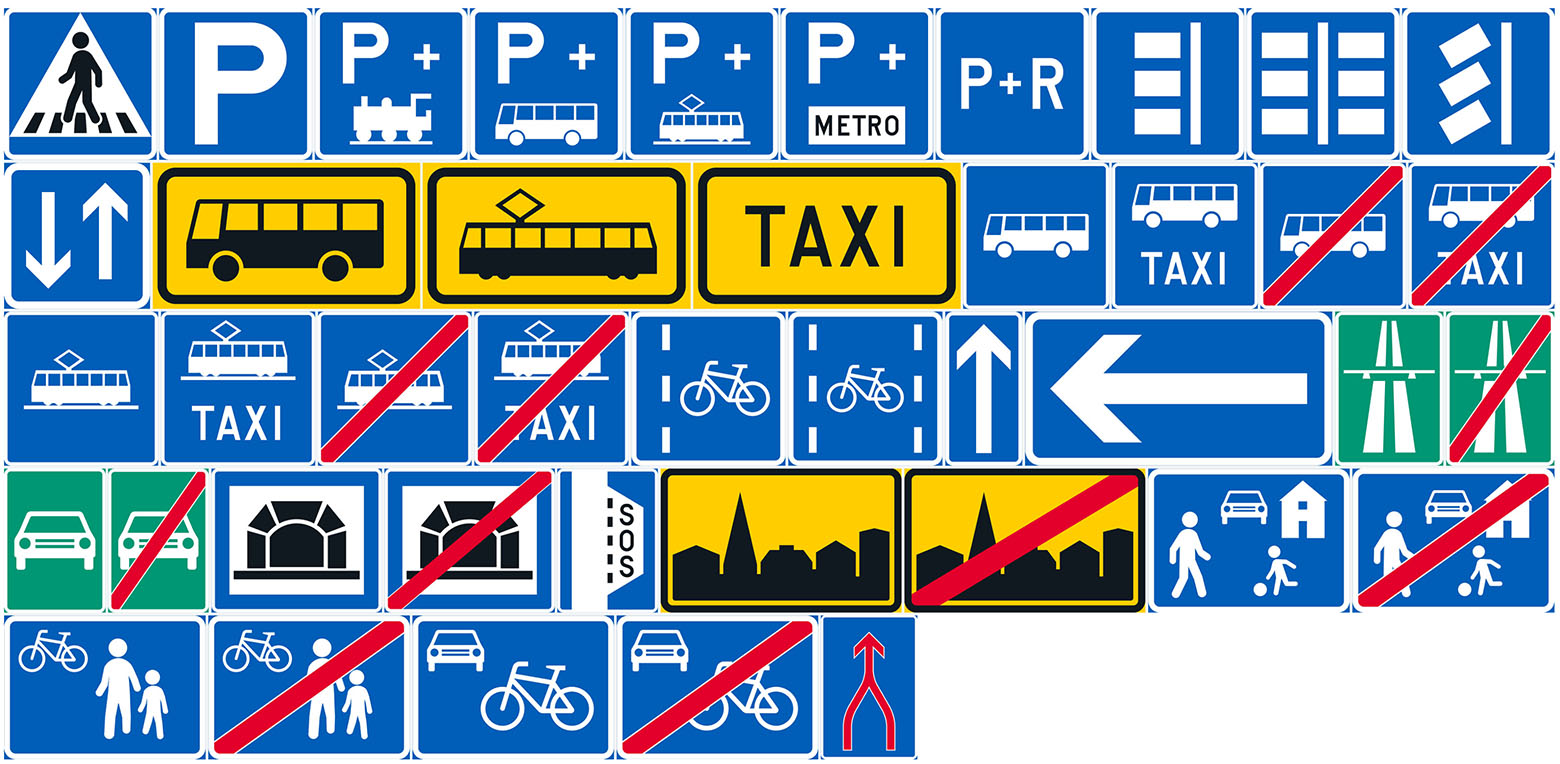 Information signs
Information signs are to instruct road users and for navigation purposes.

Service signs
Service signs show the road user where they can find diverse services, such as filling stations.

Additional panels
A rectangular additional panel can be used below a road sign to clarify the purpose or object of the road sign. An additional panel can also be used for specifying the area concerned or time of validity of the sign or to limit its effect.

Other road signs meant for traffic control
See other road signs meant for traffic control