Winter maintenance
The Finnish Transport Infrastructure Agency and the Centres for Economic Development, Transport and the Environment ensure that traffic routes are operable throughout the year.
Winter maintenance policies define the principles by which roads are maintained during winter and their operability is ensured. The guidelines for winter maintenance were updated in 2018 and the new guidelines for contracts have entered into force for the period 2019–2023.
Winter conditions
Snow ploughing
In winter road maintenance, snow is usually first ploughed and then antiskid treatment is applied. The busiest roads are ploughed first. The aim is that on busy roads and on pedestrian or cycling routes there should not be no more than a few centimetres of snow. Once the snowfall comes to an end, the snow is removed from main roads within two to three hours and from pedestrian and cycling routes within four hours. Low-traffic roads may occasionally have up to ten centimetres of snow, and the snow should be ploughed within six hours.
Antiskid treatment
The weather service facilitates forecasting of when the road surface will freeze. On busy roads, antiskid treatment involves salting, while on other roads gritting or roughening is used instead. Antiskid treatment of busy roads is normally carried out in advance, and at the latest within 2 to 3 hours of the first observations of the slipperiness. Sufficient traction is ensured for pedestrian and cycling routes, and particularly for morning traffic. For roads in lower maintenance categories, the aim is to apply antiskid treatment within 6 to 8 hours of observing the slipperiness, but during the most difficult weather conditions, mild slippery conditions may last for longer than this.
When the quality requirements based on the new winter maintenance guidelines entered into force for tendered contracts from autumn 2019 onwards, antiskid treatment of lower class roads was accelerated, being carried out now within 5 to 7 hours. The quality requirements for antiskid treatment of medium-traffic roads will also be tightened, and the same quality requirement will apply over the coming years.
Learn more about antiskid treatment
To view the up-to-date winter maintenance situation, visit the Traffic Situation website: Traffic Situation Map
Winter maintenance categories
The importance, traffic volume and traffic composition of the road determine the service level required for road maintenance. Since not all roads can be maintained immediately while still keeping costs at a reasonable level, the roads are classified using different maintenance categories. As of 1 January 2019, over 11,000 kilometres of roads were either moved to a higher winter maintenance category or had their level of winter maintenance increased in some other way.
Division of the road network into different winter maintenance categories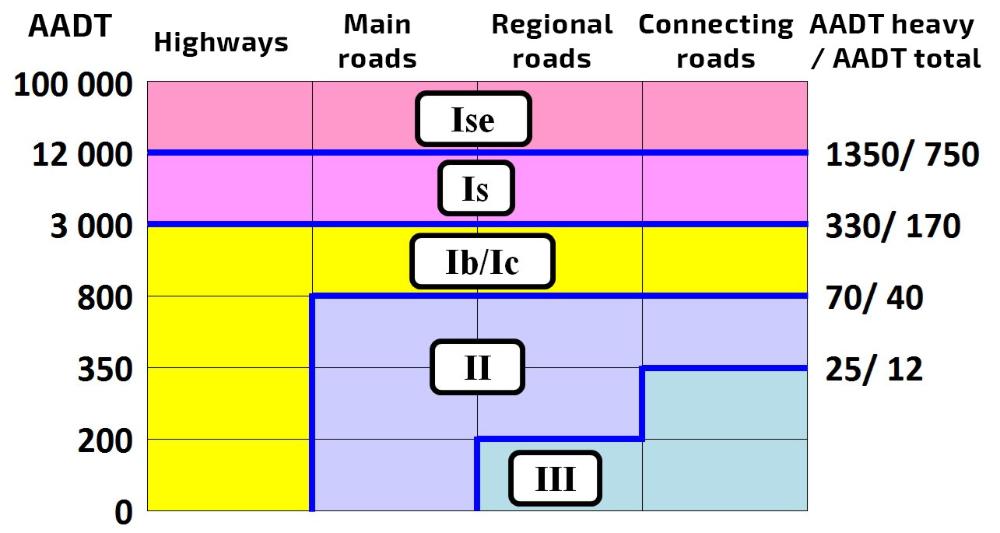 Map of winter road maintenance categories
The map works best when it is opened on its own page: Show a larger map