Although a road traffic bottleneck is not an official term, places where traffic slows down or stops completely can be considered as such. It may be a long-term or temporary hindrance. It is a long-term problem if the road becomes congested day after day. Temporary bottlenecks, however, are usually caused by accidents.
But how bottlenecks are formed? Here are the basics.
Traffic volumes matter
Roads come in various types and sizes. The road network in Finland is 454,000 kilometres long and consists of private roads, municipal street networks and state-owned roads. The state's share of the road network is approximately 78,000 kilometres, including class I and class II roads, regional roads and connecting roads. There are approximately 13,000 kilometres of class I and class II roads. The network comprising of class I and class II roads is called the main road network.
Although main roads only constitute a fraction of the entire road network, their significance for traffic is greater than their size. The reason is traffic volumes.
The traffic volumes on the main roads are far higher compared to a low-volume road network. For example, in 2020, more than 60% of all road traffic was on main roads.
Due to large traffic volumes, possible delays affect many people's lives. A traffic accident on main road 4 during peak hours affects more people than a fender bender on a private road.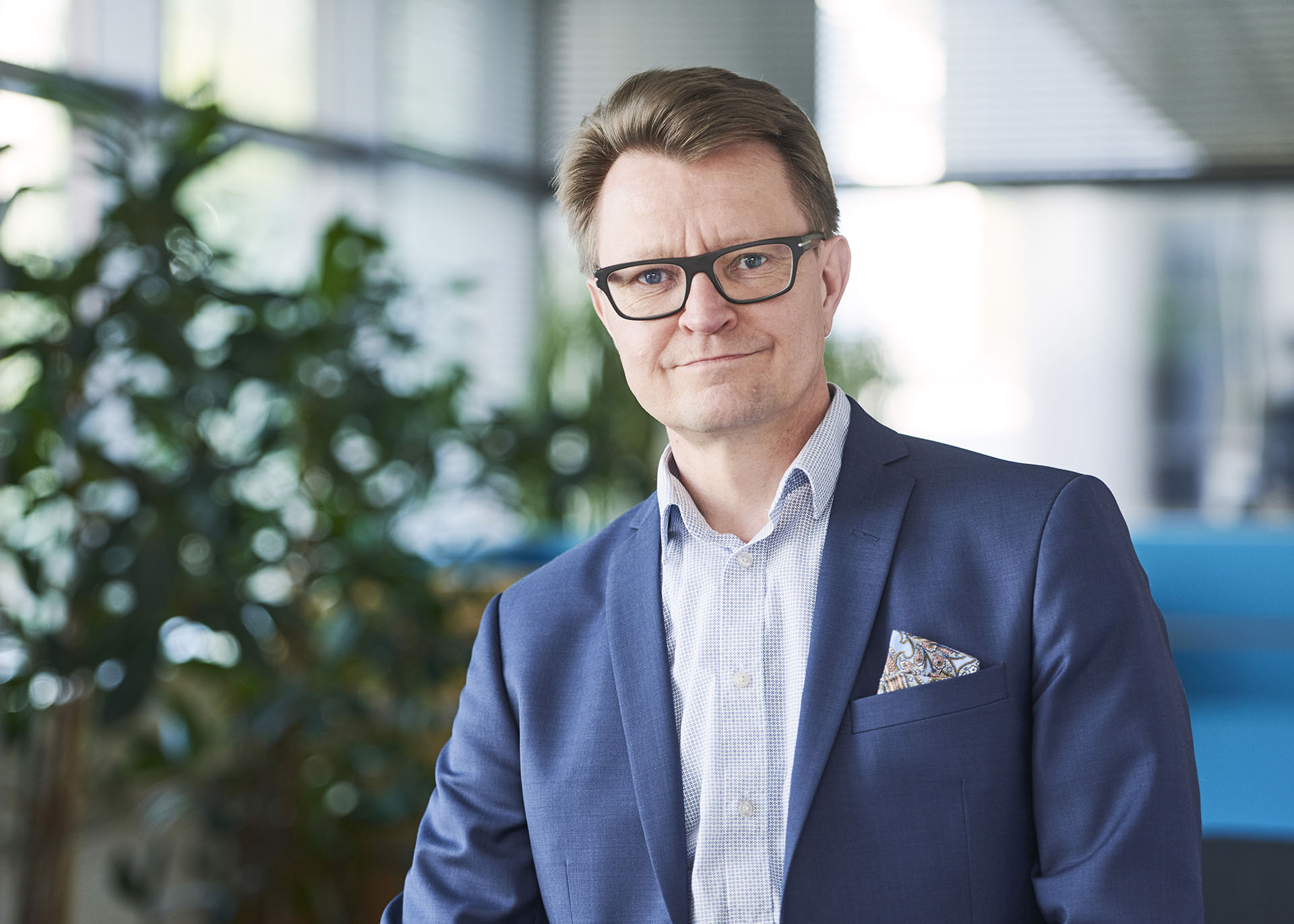 Director of road traffic Jarmo Joutsensaari.
Arterial routes connect
The criteria for efficient traffic on main roads – and especially on highways' arterial routes – are strict. Highways' arterial route network is 5,515 kilometres long, and it connects the nationally and internationally largest centres and hubs. Arterial routes are class I or class II main roads (5,505 km) and regional or connecting roads (10 km) leading to the TEN-T core network ports (Naantali, Turku, Helsinki, Hamina-Kotka).
There is a lot of long-distance traffic on the arterial routes, and traffic volumes are typically very high. That is why the arterial routes must enable steady driving speeds and safe travel.
"The criteria are set in the arterial route decree. Traffic should not be erratic due to, for example, hindering junctions. The majority of the arterial route network, approximately 3,500 kilometres, is in a state that adheres to the decree. A stretch of approximately 1,100 kilometres has clear shortcomings," says Joutsensaari.
In addition to hindering junctions, road safety or the width of the road, for example, may require improvement. The Finnish Transport Infrastructure Agency has estimated that remedying the shortcomings would cost approximately 5 billion euros.
"Unfortunately, an investment of this magnitude will not be made at least in the next few years. There are, of course, plans to correct bottlenecks in the arterial routes. The eight-year investment programme proposes spending approximately 1 billion euros on projects that would improve the efficiency of the arterial routes when implemented," says Joutsensaari.
Everybody has their own bottlenecks
Each motorist experiences traffic problems differently, depending on the route and the time they are on it, for instance. The size of the vehicle also matters.
"The weight limits for bridges and ferries mainly apply to heavy traffic. In addition, some junctions are too small for long vehicle combinations," explains Joutsensaari.
There are just under 400 bridges with weight limits in the state-owned road network, and they are all located outside the main road network. If one happens to be located on a freight traffic route, going around it may take a lot of time.
"The road network as a whole is not yet fully compatible with the maximum authorised mass and dimensions of vehicle combinations. In 2013, the maximum authorised height of vehicles was increased to 4.4 metres and the mass to 76 tonnes. The Finnish road network now allows larger vehicle combinations than many other countries," says Joutsensaari.
The large size of vehicles promotes environmentally friendly and efficient transport. At the same time, however, it poses challenges to infrastructure. The deteriorating condition of low-volume roads also poses challenges to freight traffic. Low-volume roads are a necessity for, for example, the forest industry. Approximately 2/3 of the forest industry's timber is retrieved through low-volume roads.
Condition of the low-volume road network deteriorates
More than half of state-owned roads, approximately 43,500 kilometres, are classified as low-volume roads. This means that the average number of vehicles on the road is less than 350 per day. Compared to busy roads, the difference is great. For example, the traffic volumes on ring roads are in the tens of thousands per day. Due to limited resources, the Finnish Transport Infrastructure Agency has prioritised the maintenance of busy roads.
The solution has had its pros and cons. The main roads have remained in relatively good condition, but the condition of the low-volume network has deteriorated. Approximately 20% of low-volume paved roads are in poor condition. Approximately 10% of low-volume gravel roads are in poor condition.
"Some low-volume roads have required lowering speed limits and setting weight limits. This causes traffic bottlenecks. Low-volume roads should receive more maintenance, but at the moment funding is usually only sufficient for small repairs. The currently rising cost level makes the situation even more difficult," says Joutsensaari.
In other words, current funding will most likely not eliminate these shortcomings, but is there anything that can be done?
"We at ELY Centres and the Finnish Transport Infrastructure Agency do our best to ensure efficient traffic also on low-volume roads. For example, we have increasingly invested in winter maintenance in recent years. In addition, we ensure that we are allocating maintenance funding to where the need is the greatest. By doing this, we aim to pay particular attention to the needs of business and working life," says Joutsensaari.
Fortunately, history has shown that situations can also go in a better direction. In 2020, the price of bitumen was low, and the Finnish Transport Infrastructure Agency and ELY Centres received additional funding for paving at the same time. As a result, our paving work increased to cover approximately 4,000 kilometres, the increase in road maintenance backlog was interrupted and satisfaction with the condition of the main roads improved.
"Even now, we can see that things are slowly taking a turn for the better, as the state budget proposes an increase of 50 million euros for basic route maintenance in 2023, and the previously agreed cut of 15 million euros has been cancelled," says Joutsensaari.